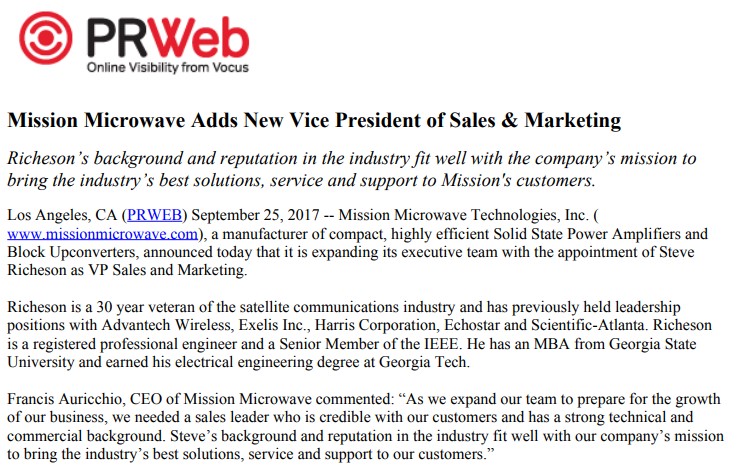 Mission Microwave Adds New VP Sales and Marketing
September 18, 2017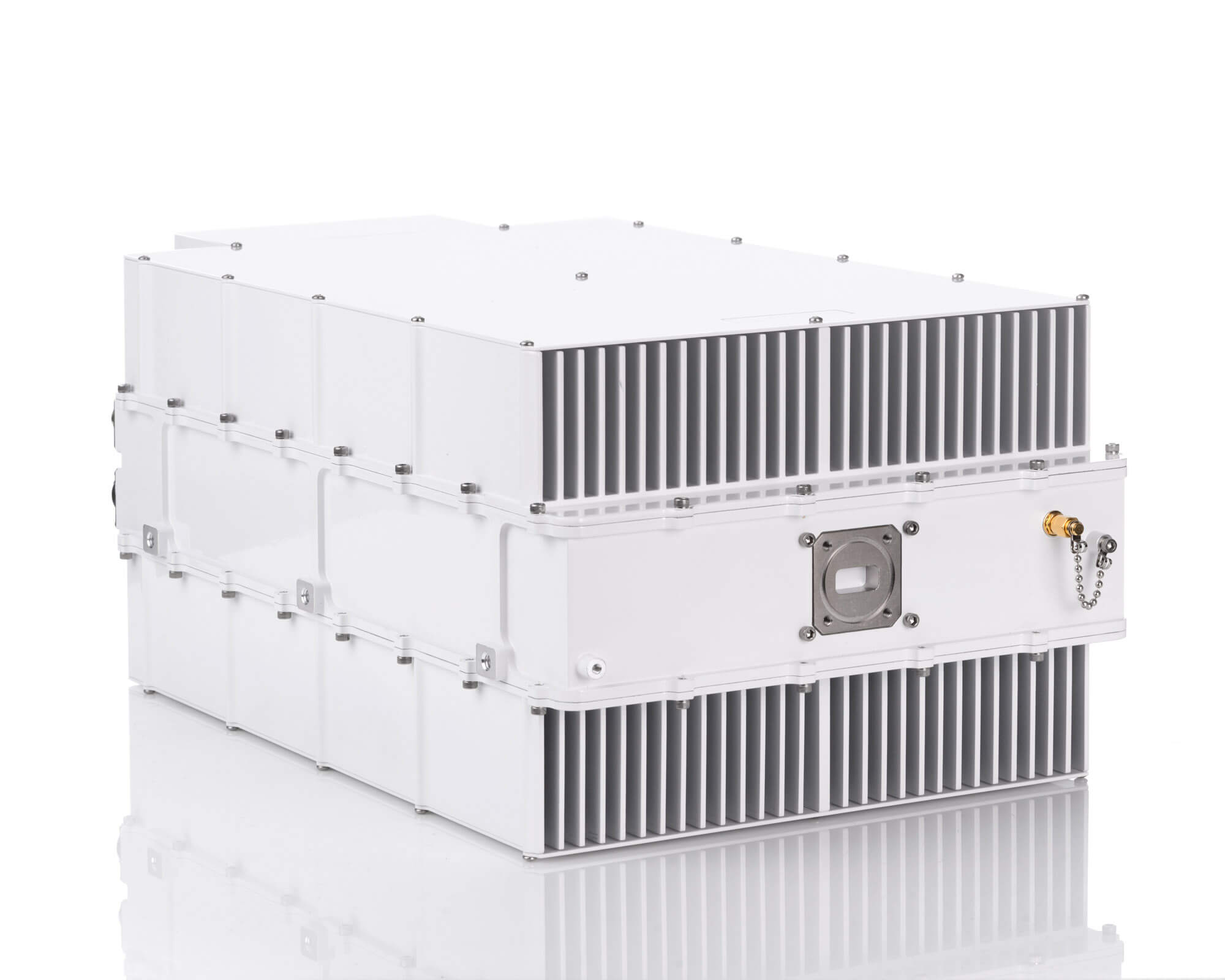 Mission Microwave Announces Availability of 400 Watt Ku-Band BUC/SSPA
March 7, 2018
Mission Microwave Ramps Production Deliveries of 200 Watt Ka-Band Solid State Power Amplifiers
Now shipping – State-of-the-art 30 GHz Gallium Nitride Power Amplifiers for Satellite Communications redefines expectations for efficiency and compact size / weight
Santa Fe Springs, CA – February 5, 2018 – Mission Microwave Technologies, a manufacturer of highly efficient Solid State Power Amplifiers (SSPAs) and Block Up Converters (BUCs), announced today that it is has completed the initial delivery and acceptance testing of its 200 Watt Ka Band (30 GHz) Gallium Nitride (GaN) based products for a U.S. based technology integrator.
Mission Microwave is providing individual amplifiers and redundant systems based on its Titan Ka Band BUC. Both Ku-Band and Ka Band systems are being delivered in support of mobile SATCOM deployable systems. The 200 Watt Ka band Titan BUC produces over 100 watts of linear Radio Frequency (RF) power in a 10 kg package to support mission critical communications while the Ku band configuration delivers 200 watts of linear Ku band RF power.
Francis Auricchio, President and CEO of Mission Microwave commented: "Our customer needed a very high power Ka-band solution within a very constrained Size, Weight, and Power (SwaP) budget. The Titan amplifier system was a clear choice for their design with efficiency, SwaP and performance well beyond anything else available in the commercial market. The Titan BUC is less than half the weight of competing products and uses significantly less power while providing the linear performance and reliability needed for mission success."
Tactical and commercial customers and their end-users can expect to benefit from continued releases of new Mission Microwave RF products as leading satellite communications systems suppliers incorporate them in their designs for X, Ku and Ka band uplinks for commercial and MILSATCOM applications. As with every Mission Microwave product, these GaN based Ka and Ku band BUCs are based on a family of proprietary components and design elements that ensure the products are predictable and reliable in their manufacture, operation and support.
About Mission Microwave Technologies
Mission Microwave Technologies brings revolutionary design for RF (Radio Frequency) and microwave electronics, supporting ground-based, airborne, and space-based applications. Using the latest in semiconductor technology, Mission Microwave's focus is to minimize the size, weight, and power (SWaP) for these critical applications, while providing its customers with the best possible reliability. Mission Microwave sets the new standard for performance and reliability. For more information, please visit the company's website at www.missionmicrowave.com
Mission Microwave Contact: Steve Richeson VP Sales and Marketing
(951)893-4679 Steve.Richeson@missionmicrowave.com