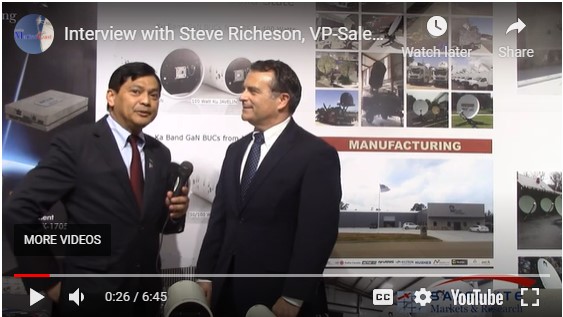 VIDEO: CABSAT 2019 Satellite MarketCast Interview
March 21, 2019

Mission Microwave Supplying High Power X, Ku, and Ka-Band BUCs in support of the Warfighter
April 30, 2019
Mission Microwave Supports INSTER on Train Satellite System
Industry's Fastest Growing Manufacturer of High Performance, Lightweight, Solid State Power Amplifiers for Satellite Communications Selected for Satellite Connectivity Solution for Trains
Santa Fe Springs, CA, April 10, 2019 –(PR.com)– Mission Microwave Technologies, LLC, a manufacturer of highly efficient Solid State Power Amplifiers (SSPAs) and Block Upconverters (BUCs) has been selected by INSTER, part of the CPS Group for use in their Train Connectivity solution for the railways.
"The engineering team at INSTER conducted a rigorous search for the ideal RF amplifier solution for their customer. The challenging environmental conditions and need for a lightweight and compact solution made the Mission Microwave Stinger BUC an obvious choice," said Steve Richeson, Vice President of Sales & Marketing for Mission Microwave. "INSTER's engineers have a thorough understanding of the requirements for mobile and transportable terminals and our team enjoyed working with them to overcome the challenges for this demanding commercial application of our products."
"Our customers demand that we provide them with optimal solutions in terms of reliability, price and performance. The Mission Microwave products have inspired the industry with their dramatic increases in performance and reliability in an efficient and elegantly designed package," commented INSTER executive Jocirene Chagas.
The system provided by INSTER will provide connectivity to new generation Trains operating beyond the reach of high capacity terrestrial services along the railroad lines. INSTER's requirements were driven chiefly by performance, low profile, and the compact design of the 55 Watt Ku Band Stinger BUC that occupies under 1650 cubic centimeters of volume (100 cubic inches) and weighs only 2 kg (4.5 lbs).
Mission Microwave continues to be at the forefront of the satellite terminal industry in shipping high power Ku and Ka Band BUCs for mobile applications in ground, maritime and other applications for both government and commercial industry sectors that require high efficiency, reliability and performance.
About INSTER
As a part of the CPS Group, INSTER is a technology and engineering company that designs, develops and manufactures innovative products and solutions for the defense, security and telecommunications sectors. The "core" of INSTER's technology is satellite and terrestrial communications for mobility applications in the military and railway domains, as well as its high capacity Point to Multipoint Fixed Wireless Access solution for telecom operators. The company possesses a solid business of systems and communications integration in vehicular platforms, which together with its foundational purpose, has taken INSTER to be a leading company for the Spanish Ministry of Defense since 1993.
About Mission Microwave Technologies, LLC
Mission Microwave Technologies brings revolutionary design for RF (Radio Frequency) and microwave electronics, supporting ground-based, airborne, and maritime applications. Using the latest in semiconductor technology, Mission Microwave's focus is to minimize the size, weight, and power (SWaP) for these critical applications, while providing its customers with the best possible reliability. Mission Microwave sets the new standard for design, performance, and reliability.